Get married for the day!
You will be 'married' in a romantic and fun ceremony, not legally binding, but with everything a real wedding needs: Wedding dresses, rings (to keep), a speech, backdrop, etc.
Experience what it feels like to be married! Or celebrate your wedding aniversary. This is a unique and lovely way to celebrate your love and never forget Amsterdam. 
Don't need to prepare anything but your reservation.  Check our schedule here.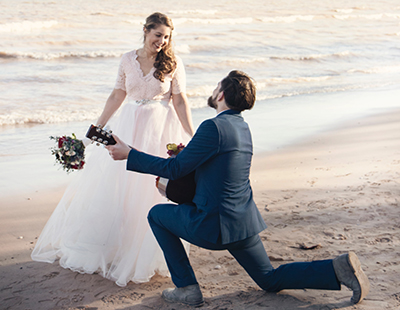 "I urge anybody visiting Amsterdam with a loved one to get married for a day, it was a truly unique experience! I thought it would be a great suprise to get married again. I was right as the wedding was a complete success! Big thank you to Wed and Walk for making our final evening in Amsterdam so unforgettable." 
We provide: 
Wedding dresses (XS,S,M,L,XL), veils, tail coats, top hats
Lovely wedding backdop
A ceremony with personal speech
Rings to keep as a memento
1 print of your wedding kiss
If you book the longer ceremony: lots of photo's taken
Bring guests: max 4 with the basic ceremony and max 8 with the extra ceremony.

✓  45min (incl. dressing)
✓   1 printed photo
✓  Max. 2 maids
         Extra photos
         Extra time to reminisce


✓  75min (incl. getting dressed)
✓  1 printed photo
✓  Extra photos
✓  Max. 8 guests
✓  Extra time to reminisce